Non Load-Bearing Metal Stud Partitions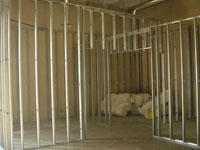 Spanfix Ltd. offers the full range of lightweight metal or timber framed partition and walling systems to meet specific requirements of current building regulations and/or client particular requirements.
Metal framing is usually obtained from proprietary manufacturer's e.g S.F.S, Gypsum, Lafarge and Knauff.
Metal or timber framed partitions and walls are used in all types of buildings including private housing, flats and apartments, commercial, institutional, recreational and industrial properties.
Key Benefits include:
Metal Stud Partitions are light weight, easy to install and renovate
Multiple width types of proprietary metal stud partitions allow for the construction of a range of thickness of partition systems
Fire resistance requirements can be met using fireline boards
Sound insulation requirements can be met using acoustic boards
Moisture resistant plasterboards are suitable for wet areas like kitchen / toilet etc.
Thermal insulation can be introduced as necessary
Impact resistant boards can be installed in heavily trafficked communal areas
Speed of installation
Reduction in drying out time
Reduction in construction costs
We install partitions to suit all applications, from simple independent walls, shaft walls, jumbo studs and through to high performance walls designed to meet the most demanding fire resistance, sound insulation, high impact and height requirements.
Fire Protection
Fire Protection solutions can be provided utilising a range of different products depending on required Fire Rating.